Korg format program and sample data. Triton Classic, Rack, Studio, Extreme and Le compatible.
Program List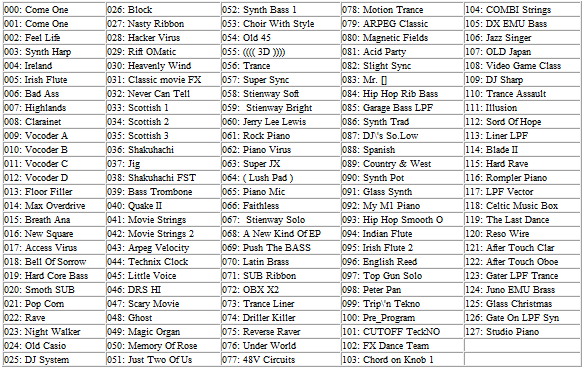 Download Mp3 Demos
The following 8 demos where played live on a KORG Triton Studio. Absolutely no data was sequenced or enhanced in anyway. Each demo will only use one single program sound, so at no point will you hear more than 1 sound playing at any time.
056 Trance
047 Scary Movie
040 Quake II
067 Steinway Solo
045 Little Voice
066 Faithless
109 DJ-Sharp
081 Acid Party
Introduction.
Thank you for your interest in Sample Assault. Over the next few minutes I hope to share with you what I consider to be the most unique set of programs available for your KORG Music Workstation.
The idea behind Sample Assault sounded simple enough at the time, but when you actually consider what the goal of Sample Assault was, to create new sounds that never existed before and to create sounds beyond the ability of your music workstation is no easy task let me tell you. But I have to say that I personally feel extremely proud of what I've accomplished as a sound designer, and I'm confident that you will feel the same way too when you start using these sounds in your own songs.
Technical Information.
Sample Assault contains 128 Program sounds supported by 16MB of totally bran new sample data. Sample Assault currently comes in 3 versions in order to meet everyone's needs, upon purchase you will get access to all 3 versions so that in the future if you updated from something like the Triton LE to the Studio. You will have a copy of that version too.
The first version of Sample Assault is split up into 12 Folders for those who don't have a SCSI drive or the means to load the data by CD or any other method directly into their music workstation. Floppy disk users simply need to copy the contents of each folder to a blank formatted floppy disk. (12 disk in total will be needed) Once the data has been coped to floppy disks, you simply insert the first disk into your workstation and start loading the data as you would normally do with any sounds.
The second version is for SCSI users or anyone with a means of loading large amounts of data from USB or SCSI connected media. Simply copy the data found in the SCSI folder of the download to your media of choice and load the data as you would load any set of sounds and sample into your workstations.
Finally the third version is for Triton LE users only. Due to the fact that the Triton LE only has 1 Insert Effect and that all the other Triton Series workstations have 5. I've created a special version of Sample Assault that will make the absolute most out of the Triton LE. You can find this data in the LE-USERS folder. To load this data into your Triton LE you can simply copy the LE-USERS folder to your Smart Media using your PC.
Triton LE users are advised to ONLY load the contents of the LE-USERS folder into their instrument. The data found in the Floppy and SCSI folders on the CD was not designed for your instrument. That data is Classic, Rack, Studio and Extreme compatible only.
System Requirements.
Triton, Studio, Rack or Classic owners do not need any additional hardware to load Sample Assault. Any basic model can load Sample Assault perfectly.
Triton LE users must have a minimum of 16MB of RAM installed. You must also have a means of loading the data into your Triton LE (Smart Media or SCSI). It is NOT necessary for you to have the Sampling Option installed to load Sample Assault.
Triton Extreme users only require some means of loading the data into their workstation (Smart Media, or a USB Drive of some sort).
The creation process.
The creation process for Sample Assault was a very complicated one, but a necessary step to achieve exactly what I was looking for. Absolutely everything was processed in the Digital Domain through 4 behringer 9024's into an AKAI S5000 Sampler. From there the data was sent to my 24 Track Fostex HDR for processing under a Yamaha 01V Digital mixing desk and further processing through the 4 Behringer 9024's. All multi channel audio was mixed down and mastered at this stage, then passed back to the AKAI S5000 Sampler for looping. Once the data had been looped it was then transferred by SCSI interface to a KORG Triton Studio were assembly of the data took place and all the PCG programming was completed
The actual sounds sampled where created in a very unique way that I'm sure you will appreciate. Using Yamaha VL Technology with a WX 5 wind controller I created unique sounds specially designed to make your mouth water. There are also plenty of other fantastic delights like a real Stereo Steinway Piano, and more virtual technology from the KORG Prophecy world. Again, all sounds where created from start to finish by me. Taking your memory back around 22 years or more, I also sampled my pride and joy. It's a classic vintage synth that's a collector's item at this point, and used by only the very lucky dance acts. It's a Sequential Circuits Pro One. Needless to say it produces some fantastic Lead and Bass sounds. Rave Heaven.