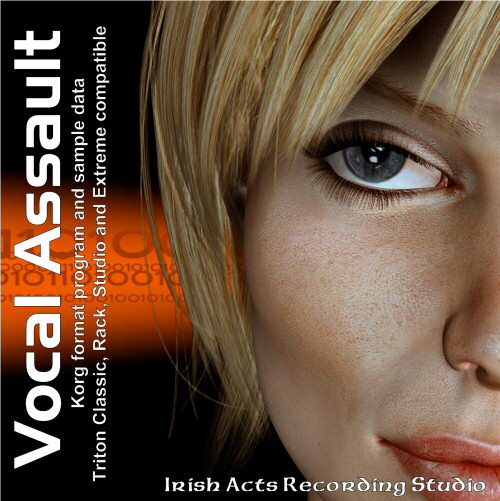 A large collection of mystical Choir and Vocal sounds that will take you on a magical journey. Powered by real human voices sampled here at IA-Studio's. Compatibility: Triton Classic, Rack, Studio, Extreme, Le, TR, Pa2X, Pa1X, Pa800.
Vocal Assault is a collection of 64 programs powered totally by real human voices sampled here at Irish Acts Recording Studio's. Lets face it, the human voice is by far the most unique and powerful instrument ever, and once captured as detailed multisamples and programmed correctly. You can be taken on a journey straight into the deepest magically movie soundtracks right through to solo voices.
If I where asked to describe Vocal Assault, I would say think of a cross between Enya and Lord Of The Rings. But don't take my word for it. Listen to a selection of the solo demo's and make up your own mind.
Vocal Assault Demo Area
Program Name
Triton Rack
Classic
Studio
Extreme
Triton Le
Triton TR
Pa2X
Pa1x
Pa800
A Demo Song using only Vocal Assault sounds.
000: Vocal Assault
001: Lonely Voice
002: Gates Of Hell
003: Winds Of Sorrow
004: Backing Vocals 1 (Female)
005: Backing Vocals 2 (Female)
006: Backing Vocals 3 (Female)
007: Backing Vocals 4 (Female)
008: Backing Vocals 5 (Male)
009: Backing Vocals 6 (Male)
010: Backing Vocals 7 (Female)
011: Aurora
012: Vocal Glass
013: A New World
014: Stereo Choir
015: Vintage Voice
016: Advanced Vocal
017: Solo Singer 1 (Female Eee with real vibrato)
018: Solo Singer 2 (Female Eee without vibrato)
019: Solo Singer 3 (Female Ahh with real Vibrato)
020: Solo Singer 4 (Female Ohh with real vibrato)
021: Leading Lady
022: World Choir
023: Light Opera
024: Aurora 2
025: Celtic Dream
026: Stereo Girls
027: Synth Vocal Warp
028: Breath Of Angels
029: Memory Of You
030: Underworld
031: Two Girls Mmmm
032: Creative Voice
033: U Talking 2 Me
034: Symphony Choir
035: Clear Aaaaaa
036: Voyage In Love
037: Sunday Morning
038: Solo Male 1
039: Solo Male 2
040: Serenade
041: Humming
042: Large Choir
043: Princess Dreams
044: The Maker
045: Voxy
046: Vocal EP 1
047: Vocal EP 2
048: Vocal EP 3
049: Portal
050: Staccato Ahh
051: Young Girl
052: Vocal Dreams
053: Phased Reality
054: Vocal E Staccato
055: Mystical
056: Lady Bennett
057: Vampire Choir
058: At The Movies
059: Vocal Pad
060: Ballerina
061: Heavens Gate
062: Small Choir
063: Tomb Of Death
Bonus Material + New Sample data
065: Bonus Sound 1
066: Bonus Sound 2
067: Bonus Sound 3
068: Bonus Sound 4
069: Bonus Sound 5
070: Bonus Sound 6
071: Bonus Sound 7
Compatibility.
Vocal Assault is currently available in the following formats. Triton Classic, Rack, Studio, Extreme,  LE, TR, Pa2X, Pa1X, Pa800.
You must have a minimum 64MB of RAM installed in your Triton Series workstation, and for the Pa2X, Pa1X & Pa800 Edition, you need 32MB of RAM.
You must have some means of loading Vocal Assault into our workstation other than using Floppy Disks. Vocal Assault is not floppy disk compatible. You need to load the data by CD, Smart media, Zip, SCSI, Jazz, Orb, USB, or whatever means you have of loading large files.