EZ MUSIC is an application designed for musicians to display sheet music, song lyrics, and for playing backing tracks. It is optimised to work with Touch Screen Tablets in a live setting, and it can be controlled over Midi using any standard midi controller or sequencer.
EZ MUSIC is a completely self contained system from start to finish. EZ MUSIC will directly scan your sheet music into it's own internal database and display the finished results in seconds rendered perfectly. There are no files for you to deal with when scanning your music. EZ MUSIC is designed take care of everything for you.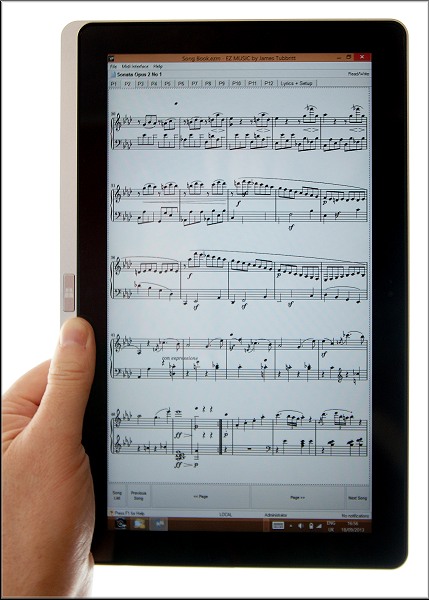 If you use backing tracks you will never have to browse through your collection ever again. EZ MUSIC makes having to deal with any files completely obsolete as it simply memories everything and is completely self contained.
Imagine, a song book could contain limitless pages of sheet music, song lyrics, and backing tracks, and you will not see or have to deal with any files or additional software applications.
EZ MUSIC can be fully controlled over any midi interface. You can for example sequence in page turns into your Sequencer, or assign any function to a foot pedal or external controller.
Every function you need for performing live has been considered and carefully integrated into EZ MUSIC for complete hands free operation.
Example of how to Scan Muisc into EZ Muisc.

Example of how to copy music from a PDF file into EZ MUSIC
Update 01 Aug 2014 – EZ Music has been updated to version 2.0
1:New amazing price of only €10.
2: EZ Music can now print out your sheet music and your song lyrics.
3: EZ Music now comes with full local and remote Networking. For example you may want to allow other users to all login at the same time so that you can share a piece of music you want to practice with them. Or you might simply want to work on your tablet database from your desktop.
4: Previously EZ Music had only two internal songbooks per database. "Live List" and "Archive List". There are now 30 additional User Song Book per database. They can be freely renamed and are unlimited in the amount of content they can store.
5: The GUI has been updated changed so that song books are very visual folders now.
6: Full Drag and Drop is supported between song books. You can simply drag any song from one book to another with your mouse or touch screen.
7: A Clone song function has been added for those who will probably want to keep a copy of the same song in different Song Books.
8: A search function has been added that will allow you to find any song in seconds regardless of what song book it's in.
9: When you create a new song, it no longer defaults Page 1. It stays on the setup page. I've also added a new menu so that no matter what your doing, you can create a new song in two clicks from any mode.
10: A "Keep On Top" function has been added so that you can't accidentally minimize EZ Music during a live performance or have your view blocked by some other program on your PC.
11: Bug fixes and optimizations.
System Requirements.
Windows XP, VISTA, Win7, or Win8
1.6 GHz Processor or higher.
2GB of RAM or higher.
EZ MUISC is designed for use on Tablet PC's viewed in a Portrait position as that's the natural shape of a sheet of music. A resolution of  768 pixels or higher on the shortest length of our screen is recommended.  If you are running it on a lower resolution display, please verify everything fits on your display first by trying the demo version.
Demo Version (21MB Download)
Demo version is limited to 5 Songs per folder.
EZ Music v2 Demo Download
Instruction Manual
Manual. PDF
Trouble Shooting
Tablet PC manufactures use an OEM version of Windows, and from time to time they do not include all the Microsoft Packs they should as part of the OS. If when you run EZ Music and it crashes when you touch the screen, it's extremely likely your Tablet is missing the "Visual Basic Common Control" package from Microsoft. To resolve this issue, simply click on this link to download and install the Pack from Microsoft.