"SAM 04 – Piano Module"
A new expansion for Infinity.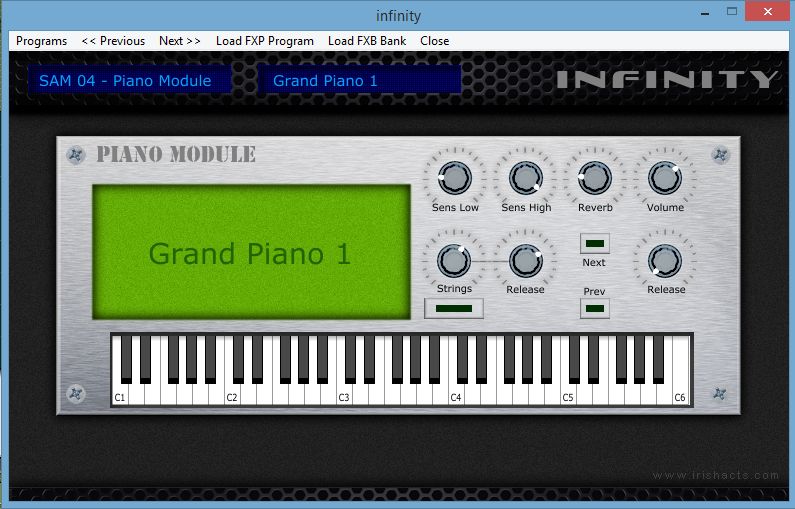 Piano Module is a new expansion for Infinity that adds a selection of sounds that you would traditionally expect to find on a Digital Piano, but for a fraction of the cost of a new digital piano.
Demo Video
Powered by 1.16GB of. Piano Module is idea for performance live on stage, at Worship / Church, and practices. As with all Infinity expansions, the CPU usage is extremely low and with great performance. So much so that Infinity is ideal even for portable solutions like running on Tablet computers.
Sound List.
Grand Piano 1, Grand Piano 2, Upright Piano, Electric Grand, E-Piano 1, E-Piano 2, E-Piano 3, Church Organ, Organ 1, Organ 2, Organ 3, Organ 4, Choir 1, Choir 2, Choir 3, Christmas Holiday, Strings.
Controls.
Dedicated sensitive controls that allow you the change the touch response sensitivity, making it easier to reach the lower of higher dynamics of the sound as needed. Dedicated Strings button allowing you to layer in Strings to any selected sounds, as well as separate volume control and release. Reverb, master release (separate from strings), master volume, and program up and down. Program changes can also be made by clicking on the LCD display.
Compatibility.
"SAM 04 – Piano Module" is a expansion library for Infinity (VST/AU). For Compatibility details please see Infinity.
Download Information.
After a purchase is made, you will receive a link to download the data as well as instructions on how to install it. This link and information will also be emailed to you. "SAM-04 Piano Module" is a 394MB download spread out / split over 5 RAR files each. Simply download all the RAR files to a folder on your PC/MAC and extract them using any application that supports RAR files.
Uncompressed Piano Module contains 1.16 GB of data.
Tip: When downloading a file, please only download one file at a time. You can do this by right clicking on the file and selecting download, or left let clicking on the file and selecting download from the menu at the top.
Already a Infinity user ? (3rd Sep 2014)
Please note that if you are purchasing this expansion and you are already an "Infinity" user, please download Infinity again from the store as it has been updated to fix a bug that caused the Strings button to function incorrectly.