"A5000S" is a new expansion for Infinity. Designed to emulate the classic sounds of Additive Synthesis from the 90's using. Powered by 4.5GB of PCM data optimised for streaming and offering 140 Sounds to choose from.
Please note, existing Infinity users must upgrade to Infinity 2.0 in order to use this expansion. You can download Infinity for free HERE
Video Demonstration (8min 32 sec)
Patch List – Click to Zoom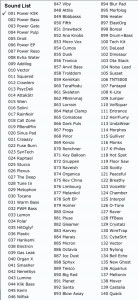 Compatibility.
"PRE 03 – A5000S" is a expansion library for Infinity (VST/AU). For Compatibility details please see Infinity.
Download Information.
After a purchase is made, you will receive a link to download the data as well as instructions on how to install it. This link and information will also be emailed to you. "PRE – 03 A5000S" is a 2.5GB download spread out / split over 29 RAR files. Simply download all the RAR files to a folder on your PC/MAC and extract them using any application that supports RAR files.
Uncompressed A5000S contains 4.47 GB of data.
Tip: When downloading a file, please only download one file at a time. You can do this by right clicking on the file and selecting download, or left let clicking on the file and selecting download from the menu at the top.