Budget Buddy is a handy program for any home looking to know what is going in and out as far as finances go. This program will break down your finances into a simply easy to other stand overview. It will even tell you how much per day you could put in a Jar to cover all your bills.
Best of all, you can download it for free. How about that for great value.
Click on any image to see a larger view.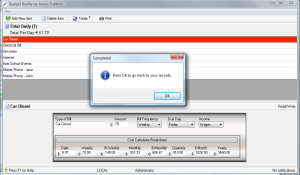 System Requirements
Microsoft Windows XP, Vista, Win7, or Win8
9MB Download